Store Fit-Outs Look Homeward
By Satarupa Chakraborty | March 02, 2018
Indian fit-out vendors today are inundated with myriad guidelines not only in terms of finishes, design and output but also in terms of set-up mandates and other compliances. Is it giving way to international vendors? Or, is it prompting the Indian vendors to up their game? What are the factors that are fuelling the growth trajectory? VM&RD talks to some of the leading brands as well as some noted vendors dealing with fixtures and lighting, to find answers.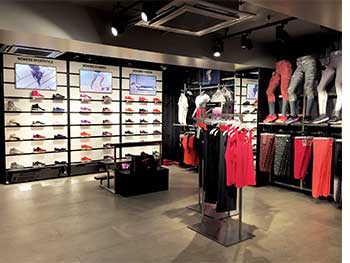 With consumerism growing in leaps and bounds, India has proved to be one of the most lucrative markets in retail. Today, along with numerous Indian brands and retailers, there are around 400 international retail brands available in India, where the current fiscal has seen many global brands setting foot in India The sector is further expected to grow by 12 to 13 per cent annually (Source : KPMG). The recent approval of 100% FDI in Single Brand Retail has added much needed booster dose to pave way for more growth.
Retailers, brands, both national and international ones, are readying for expansive store network while being vigilant towards the store environment they are offering. New materials and finishes are making debut into retail fixtures while retail lighting has come a long way witnessing LED boom to IoT to various other tech innovations.
The Homegrown Strength
Do international standards win, when it comes to quality? The dictum no longer exists. Quality in fixtures today is determined by combining new materials and achieving unique finishes and forms, whereas retail lighting, keeping with the international standards, is embracing technology much faster. Almost 100% of retail lighting used by retail sector in India is indigenised and supplied by Indian suppliers, 75% of who use in-house lighting design capacities including designers and software. Adding to that, international relationships with world's best lighting players are strengthened and about 8% of local productions are being exported to overseas. Interestingly, these vendors today are active parts of R&D practices conducted by these brands & retailers and vice versa making it a seamless process top achieve quality.
Cost is one of the determining factors to why the national brands as well as international brands are finding confidence in Indian partners. As reported by them, it brings down the cost to almost 50% vis-à-vis with international partners. The extended after-sale support available locally makes the maintenance and operations almost hassle-free.
50% of international brands import their fixtures and lighting for initial stores before emoting them with local vendors. Operating international brands like Kate Spade, Bally, Ermenegildo Zegna, Hamleys in India, Reliance Brands use Indian vendors for 98% of their brands. Operating through approximately 2000 stores for all its brands, Aditya Birla Retail & Fashion ltd (ABRFL) relies on Indian vendors who execute according to retail IDs created by international agencies like Fitch etc.
Rohit Patra, Head – Projects, Reliance Brands Ltd, said, "For example, Bally gave us the flexibility to achieve particular finish in India but for unique specifications of materials, we had to finally import. However, anything is possible in India and people who are good with finishes are the key professionals here. We go to the length of working closely even with the people who are not traditionally fixture manufacturers and we achieve desired finishes through these people."
Volume matters
Though the expansive volumes have redirected most of the brands operating in India to look homeward, there are exceptions too. Future Group, for their brands like Indigo Nation, All, Lee Cooper etc, with store sizes spanning between 1000 sq ft to 2000 sq ft, choose Indian manufacturers. However, when it comes to large format entities like Central and Big Bazaar, Future Group procures 20% of fixtures locally while 80% comes from firms like China-based Suntop and Marmon etc. For them, big retail spaces mean variety and quality. And, both of these can only be available in bulk under one roof with international vendors.
On the other hand, less volume has led fitness major Adidas to resort to international vendor like China-based IDX for some of their stores under "Homecourt" concept , that amounts to be only 10% of the total requirement. However, with some international brands like Zara, Massimo Dutti, Aldo, Charles & Keith, even within the realm of expansion, chose international vendors till date.
"In large format stores, our sourcing capacity and interest in international vendors will be more. When we are dealing with store spaces measuring to lakhs of sq ft, there are multiple types of fixtures. If we choose an international partner, everything is available under roof that also ensures high quality. And, it comes cost-effective too, because of sheer volume," Vishal Kapoor added.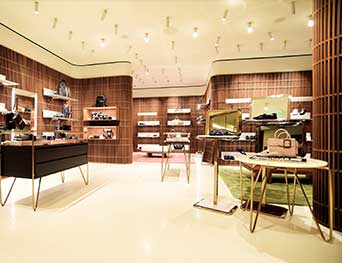 Show me the value
Satish Sharma, Head-Store Planning, Shoppers stop, mentioned, "Indian vendors are not only providing quality at par, but also giving end-to-end support, not to mention bringing down the cost to almost 50%. After we switched from CDMT to LED for lighting, these lighting vendors inched to international benchmark much faster."
If we look at some of the retail lighting firms, Indian lighting vendors are fast becoming part of the league of IoT, auto dimmable concepts, LiFi etc. Mumbai-based Brand Plus has recently launched special controlled lighting applications for MBOs, while Delhi-based Ankur Lighting has recently launched customised lighting for outdoor and indoor facades, while Mumbai-based Gardler Lighting is strengthening its international partnerships with international leaders like Singapore-based Lumileds and Germany-based BAG.
Vidya Sagar, Head – Project, Puma India, explained, "Over a period of time, Puma has realized that nothing can be uniform worldwide when it comes to deliver a proper store experience. For example, overall lux level of lighting in Indian stores are much higher than many parts of the world.. Hence, we decided to approve certain vendors in fixtures and lighting around the world after extensive audit to procure the customised requirements."
Retail fixtures players today are importing technology through international partnerships and have started showing some percentages of exports too. The quality and finishes today are so myriad that fixture industry has recently seen many new players diversifying from other related services. Many fixture manufacturers are also integrating other retail experience elements like lighting, digital signage and technology in retail fixtures.
Apart from qualities and other accomplishments, India fit-out players are also paying close attention to a number of set up compliances, which are mandatory before serving to most of the international brands. These guidelines entail set up and factory mandates, labour safety, sustainability, green productions etc.
Amit Sheth, Managing Director, Focus Lighting & Fixtures ltd – Brand Plus, said, "LED is generic but in retail, you need special LED that should focus on the merchandises and add a whole new value to a retail environment. We are working closely with this lighting design concern from Europe, Schwietzer and majority of our efforts go into design, development and innovations."
Shankar Natarajan, Managing Director, Gardler Lighting India Pvt Ltd, said, "Even 3-4 years back, Indian vendors weren't ready when it came to application design difference, customizations and tech-integration. Today, we have product designers as well as application designers on board to deliver the most comprehensive range."
Manish Jain, Founder and Director, Shark Shopfits, said, "As for the quality, we go to the extent of going to the last mile raw material suppliers. Slowly but profoundly, these brands have realised that post-installation management and maintenance are much easier with Indian partners."
Rahul Khetan, Joint Managing Director, Elemental Fixtures, said, "We make huge investments towards prototyping and R&D and we look at it as an integral part of our own upgradation."
The sustainable slew
The average age of retail lighting companies in India is about 14 years making it a fairly young industry, while Fixture industry too has recently welcomed young companies, some of whom are diversifying from other allied services. To explain the overall growth for both the industries, the former industry is on an average and healthy growth of 40% while the latter is all set to cater to the estimated addition of about 15+ million sq ft of retail space annually (from surveys done by VM&RD magazine). More focus on R&D, integration of technologies and international partnerships will contribute to sustainable growth patterns of the country's fit-out industry.
Key Findings :
50% International brands are importing fixtures and lighting for initial stores before turning to Indian vendors to emote design.
Indian vendors are strengthening international partnerships and embracing tech-oriented manufacturing.
Full automation is still not available in the fixture industry in India whereas, India still stands out in terms of craftsmanship and expertise while lighting companies are integrating design and engineering seamlessly.
Using Indian vendors brings down the capex to almost 50% vis-à-vis with international vendors
Globally, the timeline for delivery is 60-90 days whereas in India, it's just 30 days.
After-sales support and long term maintenance are two crucial reasons to chose Indian fit-out partners
Custom laws are proving to be more time-consuming than manufacturing the design in India.
Set up, environment and labour compliances are primary rules to qualify as a vendor to international brands.