Tablez launches sports superstore GO Sport in Bangalore
By Retail4Growth Team | June 10, 2019
Spread over 12,000 sq. ft, the multi-brand, multi-sport, multi-specialist superstore opens at Forum Shantiniketan Mall in Bangalore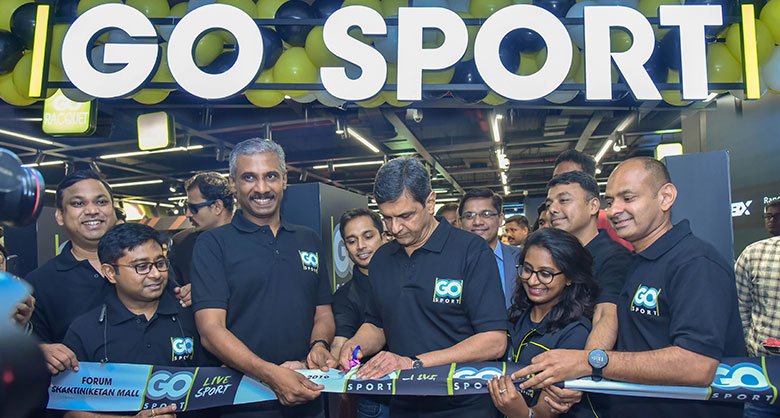 Tablez has opened its first Bangalore outlet of global sporting retailer, GO Sport, at Forum Shantiniketan Mall on Saturday. The brand was launched successfully in India last month, with its first superstore in Mumbai.
The brand will host a multitude of sports brands under one roof making it the first Multi-Brand, Multi-discipline Sports Superstore for all sports enthusiasts of Bangalore. GO Sport is positioning itself as the only one stop organised sports retailer with a multitude of consumer-friendly power brands and private label brands. Spread over 12,000 sq. ft, the superstore will provide Bangalore's sporting enthusiasts an experience to remember. Tablez plans to expand GO Sport outlets to other metropolitan cities later this year.
Adeeb Ahamed, Managing Director, Tablez said, "Tablez has time and again engaged with the aspirations of a young India and positioned itself as an identity, providing quality brands at great value. We are proud to have GO Sport join us on this journey and work with great zeal and intensity to be a game changer in the sporting retail industry."
Samuel JODEAU, GO Sport's Franchise Director, France and International said, "We are delighted with GO Sport's introduction in India which illustrates our ability to seize opportunities in booming markets. With a population of more than one billion people, a growing middle class and youth, India represents a strategic area of development for the brand. GO Sport's offer and positioning meet these needs."
GO Sport's offerings will range across apparel, accessories, footwear, and equipment in the categories of running, cycling, fitness, outdoor like hiking, trekking and camping along with racquet sports (badminton, tennis), team sports (football, cricket, basketball, volleyball), and swimming. Besides these, GO Sport will service the 'family of sports lovers' concept specifically through its Go Man, Miss Go, and Go Kids categories. GO Sport Superstore will also offer services related to different sports like racquet gutting, gait analysis for running, jersey customisation, and cycle workshop.
Similar News
According to media reports, Tablez, the retail arm of LuLu Group, will open 25 Go Sport stores in India in the next 5 years with the 2nd store coming up in Bangalore.
The company is expecting a turnover of Rs 1000 crore in the next five years.