VR Chennai to open in 2018
By Nabamita Chatterjee | September 21, 2017
Inspired by the soaring Gopurams of the temples of Chennai, and the technicolour of the Madras Check, this contemporary addition to Chennai's rich heritage will redefine the city's landscape.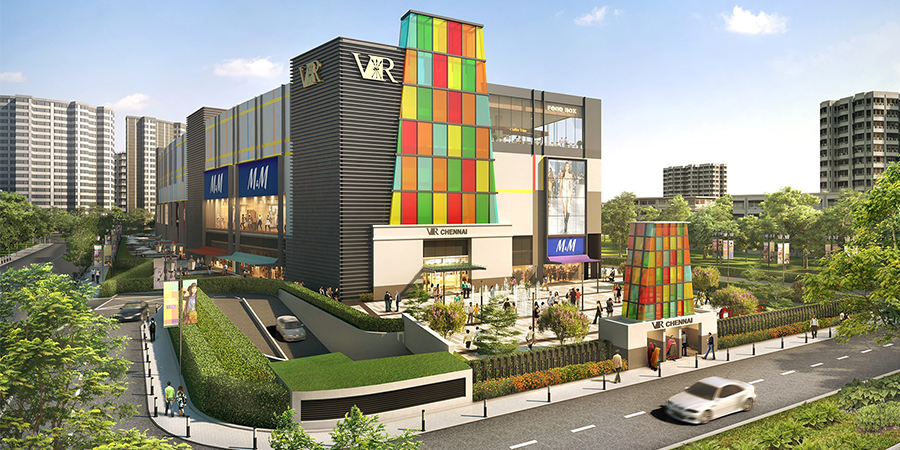 Virtuous Retail South Asia Pte. Ltd., India's leading institutionally owned developer-operator of lifestyle shopping centers, announced the launch of its flagship retail center VR Chennai recently. Following the successful launches of VR Surat in May 2013, VR Bengaluru in 2016, and the acquisition of North Country Mall, now known as VR Punjab - in early 2017, VR Chennai is an addition in the series of developments under the Virtuous Retail umbrella. With over 1,000,000 sq. ft. of retail, community, entertainment and leisure space, VR Chennai offers a mix of the best of local, national and international retailers and programmes to connect communities and attract residents and tourists of every age and aspiration. Some of the brands that will have their retail stores at VR Chennai include H&M, Aeropostale, Sephora, Forever 21, PVR (with IMAX), GAP and a flagship Apple store, and Lifestyle, Home Centre, Louis Phillippe, Allen Solly are among others who will also set up shop at VR Chennai.

"We envisage VR Chennai as a lifestyle destination where people will congregate for all kinds of celebrations and events. VR Chennai is a community destination where we will institute cultural programmes along with world-class retailers and brands. We are very proud that VR Chennai is going to be an economic, social and cultural landmark." said Rohit George, Managing Director, Virtuous Retail South Asia.

Building on the success of the previous flagship Centres, Virtuous Retail will introduce its innovative 'Master Retailer' formats, including a premium luxury hotel and thoughtfully designed community event spaces "The Sanctum, The Sacred Precinct and the Holy Garden" tastefully curated with art installations that celebrate Chennai and the rich culture and heritage of Tamil Nadu. VR Chennai will also introduce "Foodbox" which offers multi-cuisine, all-day dining options. Strategically located in Annanagar, VR Chennai will be the state's first experiential lifestyle destination. With a flourishing cosmopolitan population, the buzzing suburb of Annanagar comprises of the upscale residential neighbourhoods of Kilpauk, Mogappair and Nungambakkam townships.