Walmart to grow its Cash & Carry and B2B e-commerce businesses across India
By Nabamita Chatterjee | Vjmedia Works | April 27, 2015
Since the launch of the B2B e-commerce platform in Lucknow and Hyderabad Best Price stores, the e-commerce platform is now available in all 16 stores across India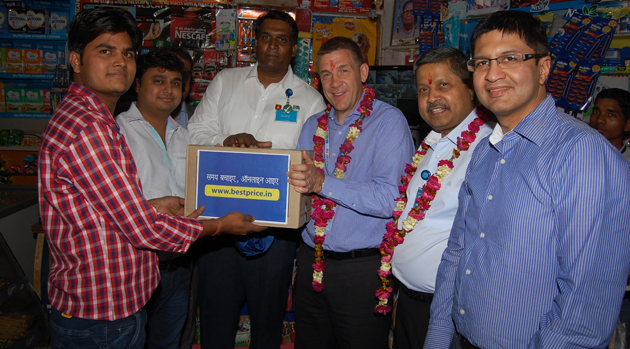 Walmart India, the wholly owned subsidiary of Walmart Stores Inc., announced that it plans to grow aggressively in the next five years with its Cash and Carry and the B2B e-commerce businesses across the country. This was reiterated by David Cheesewright, President & CEO of Walmart International during his first visit to India from April 22 to 24, 2015.
Cheesewright visited Best Price Modern Wholesale stores in Hyderabad and Agra and interacted with employees and several other stakeholders such as farmers and kirana store members. He met kirana members in Hyderabad and also launched the B2B e-commerce service in Agra, making it the 16th store to go online, by delivering the first online order to one of Best Price store's Kirana members in Agra. Walmart India's 21st Cash and Carry store is all set to be opened in Agra by August-September this year, marking the second such store in the city.
Speaking about the company's vision for India, David Cheesewright, President & CEO, Walmart International, said, "India is an important market for us, and Walmart is committed to this country and the market for the long-term. I am delighted to be here and excited about our growth plans. I believe that Walmart is integral to "Make in India" through the benefits we are delivering in India. We are pleased with our established and successful Cash and Carry business in India, which is focused on serving India's Kiranas and other small businesses. We are committed to partnering in India's economic growth by enabling the right ecosystem for B2B e-commerce through investments in people, technology and supply chain. The Agra B2B e-commerce launch is a step towards the same. Walmart India has partnered with small businesses to enable them to modernize and improve their profits through Best Price stores that offer a range of quality products, transparently priced, in a clean environment that offers one-stop shopping convenience. We want to grow our business in India the right way with integrity as the foundation of everything we do."
E-commerce remains to be a major driver of growth for Walmart's Cash and Carry business in India and the e-commerce platform caters to members of Best Price Modern Wholesale Stores only. Since the launch of the B2B e-commerce platform in Lucknow and Hyderabad Best Price stores, the e-commerce platform is now available in all 16 stores across India. Members can shop online at by logging in, navigating, choosing, booking and purchasing the products online without the need to physically visit the stores.
Krish Iyer, President & CEO, Walmart India said, "We are highly encouraged by Mr Cheesewright's visit to India. This visit reinforces Walmart's commitment to India as we remain steadfast on our belief in the potential of the market and continue to provide high quality merchandise to our members at everyday low prices so they can save money and live better."