Croma opens premium format store with tech touchpoints
By Satarupa Chakraborty | May 08, 2018
Croma's first-of-its-kind premium format store, Gadgets of Desire, houses several in-store tech touchpoints like interactive Sound Experience Zone and IoT zones for tech-savvy customer base along with showcasing a curated range of gadget products.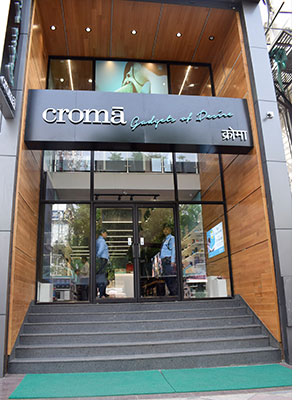 Croma has recently launched first-of-its-kind premium format store, 'Gadgets of Desire', with the opening of the first such standalone store at Delhi's Green Park. 'Gadgets of Desire' hosts a curated range of innovative and unique tech products that are a perfect fit for today's digital savvy and gadget-loving customers. The store's unique interactive touch-based sound experience zone will let customers experience over 70 speakers with just a touch. An exclusive IOT (Internet of Things) zone which allow the customers to experience the entire IOT ecosystem.
Designed to be compact as compared to the regular Croma megastores, the store will however offer customers the entire range and capabilities of a full-fledged Croma store through the 'Wider-than-store' service. 'Wider-than-store', Croma's omni-channel capability will allow customers to browse, view and find those products which are not on display and also allow them to complete the purchase of the product on the spot.
Ritesh Ghosal, CMO, Croma said, "Croma has always been a customer-centric retail company. Croma, Gadgets of Desire, is an attempt to come closer to the customers and become a go to destination for everything in electronics! The new store format is a small neighbourhood store that is a totem of the full-fledged Croma store and gives customers a gateway to the entire range of our electronics"
The standalone 'Gadgets of Desire' store that has opened in Delhi follows the 27 other shop-in-shop Gadgets of Desire zones already present across the existing retail store chain in India.