Michael Kors celebrates Diwali with beautiful window displays
By Mohit Manghani | October 18, 2019
Diwali, one of the most widely celebrated festivals, is truly rejoiced in high spirits. To mark the special festival of lights; Michael Kors installed elegant window displays across its different stores in Mumbai, Chennai, Kolkata, Delhi, Bangalore, and Gurgaon.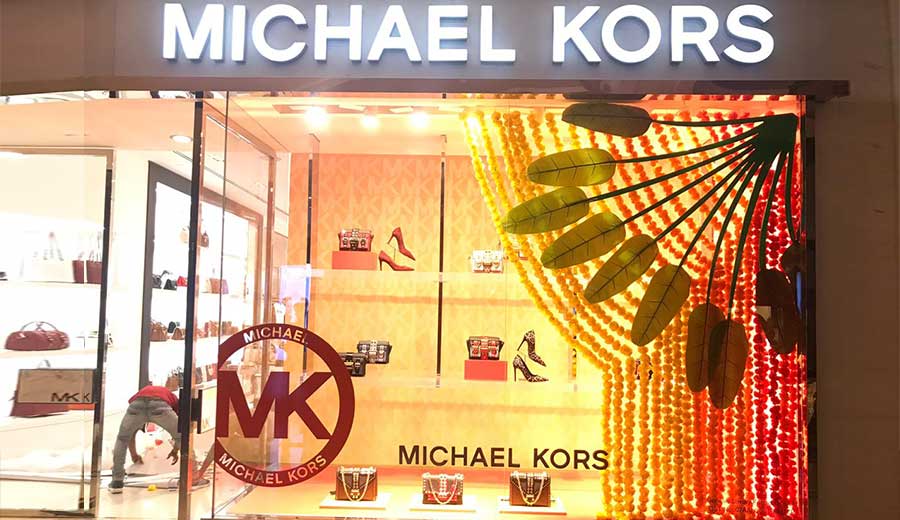 With festive season around, brands are leaving no stone unturned to woo Indian buyers with their festive window displays. Michael Kors, apparel, accessories and footwear designer company, is certainly grabbing customer's attention with their new striking displays that epitomize India's most loved festival, Diwali.
Darshni Lal - VM Head, Michael Kors India shares, while talking about the unique design of the store, "The main purpose of this concept was to capture the essence of Diwali in a market like India. It is the biggest festival for us and MK understands its significance from a retail perspective. This window has been launched at all 6 of our retail doors in India. The biggest highlight is the Indianness that has been amalgamated beautifully with the brand aesthetics of Michael Kors."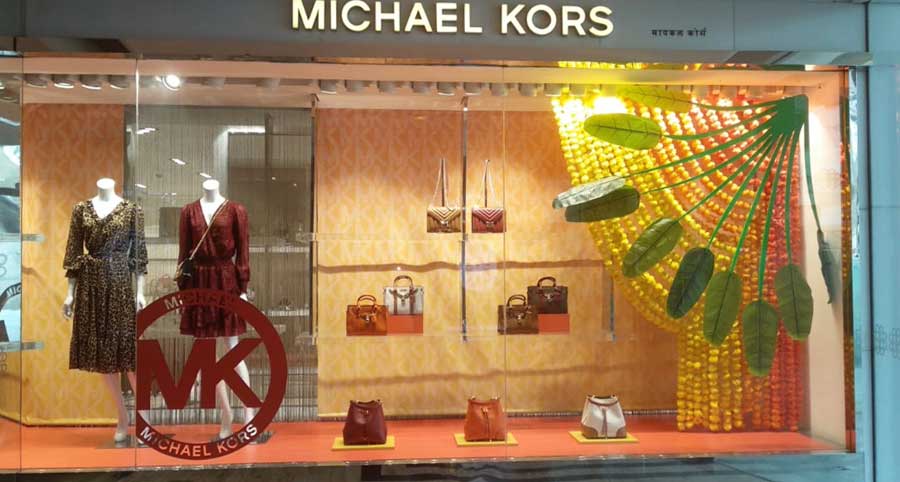 Drawing attention to the various elements that were used in designing, Darshni adds "We wanted to deviate from the usual gold and off-white colour schemes that MK has been following the past few Diwali seasons. Florals and bright colours were the foundation on which the window was designed. The main idea was playing with the marigold flower."
The project, which according to Darshni, was allotted a high budget as festive season is considered as the most profitable period in the retail calendar, posed its own challenges. Talking about it Darshni says, "We joined hands with one of our trusted fabrication partners, Ozeca, to ensure the execution was of global standards. The biggest challenge was achieving the curved drape of the marigold curtain in the desired colour sequence, while ensuring no stone is left unturned. Attention to detail was the key for this window and in order to achieve it, we had our best and most experienced VMs at each location to guide and overlook the installations. Ozeca's teams were very skilled in the execution department. It's definitely one of the most stand-out window concepts that the brand has created for the Indian market."
For more updates, subscribe to retail4growth newsletter - Click here
Similar News
Enchanting Janmashtami Window display, designed by Abraxas Design, has been executed at all Lladro stores across India – Delhi, Gurgaon, Mumbai, Bangalore, Hyderabad & Chennai.
Here are few tips on how to create an effective window display to increase more footfalls and generate more sales.