Windows as luminous icons
By N Jayalakshmi | December 01, 2022
Pencilbox Design executed these windows for Delhi based jewellery brand Vasundhara Jewellers to invoke the festive spirit and entice customers into the stores.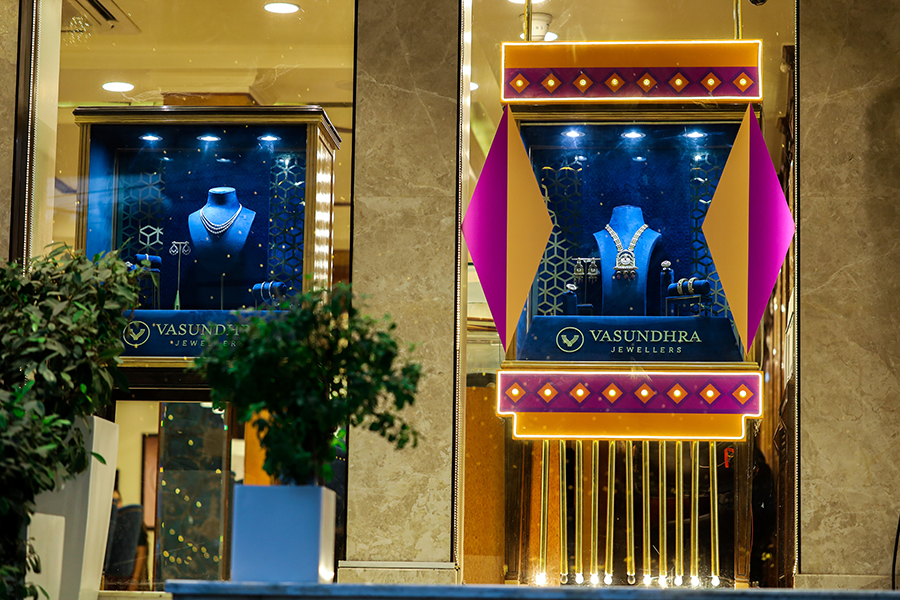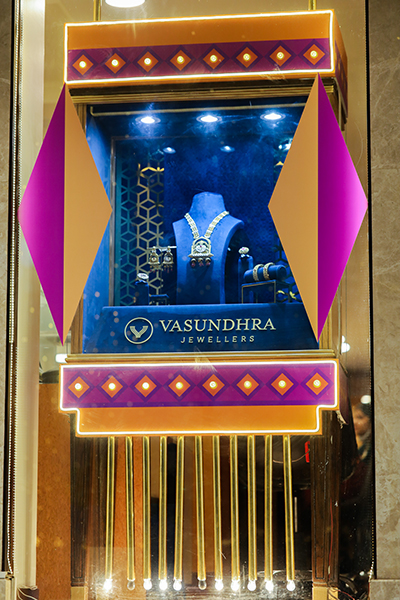 Pencilbox Design has executed a well-thought and quirky month long Diwali window display for their client Vasundhara Jewellers based at Nishant Kunj, Pitam Pura, New Delhi.
Says Anuraag S, Founder-PENCILBOX, "Being a high-street Jewellery store, Vasundhara Jewellery needed a vibrant and eye-catching window display which can draw attention from a distance. Pencilbox made the traditional Diwali Kandeel, a symbol of hope, harmony, and wealth, larger than usual. It is said to bring good fortune and inspiring spirits. Therefore, the current jewellery display shadow boxes were turned into massive 'kandeels' using festive colours and lights. The window display was surely able to draw attention and entice customers to come in and see the wide selection of jewellery available during this Diwali."
As Anuraag informs, the typical 5mm sun-board framework with digital print, acrylic pipes, frosted vinyl's print on the glass, and many LEDs were used to create the display at a very minimal cost with best impact. "The major issue was choosing LEDs that were of the proper size and luminosity. But ultimately, the committed and diligent team at HG Graphics led by Mr.Harjee Gandhi made it possible," he shares.
The Window seems to have met the objectives very well. Prakhar Jalan, Director-Vasundhara Jewellers says, speaking about it, "We are extremely pleased with the window display design created by Pencilbox Design. Not only did it create a beautiful, eye-catching display that attracted many more customers to our jewellery store, but it also helped increase our sales significantly. There was an increase of 28% in walk-ins. We got many compliments from our regular customers as well as from first time walk-ins."