Business Continuity : 'Excellent opportunity to not rely on China alone now' : Kapil Pathare
By Mohit Manghani | May 04, 2020
In these testing Covid-19 times, businesses and individuals are going the extra mile to decimate the impact of the pandemic. In doing so, one critical problem companies are facing is managing business continuity. As organisations look to turn current challenges into a competitive advantage, business continuity plans are being tested and reworked every day given.

In an exclusive interview with Retail4Growth, Kapil Pathare, Director, VIP Clothing's Ltd. shares how to overcome challenges to ensure business continuity amid COVID-19, future preparations and more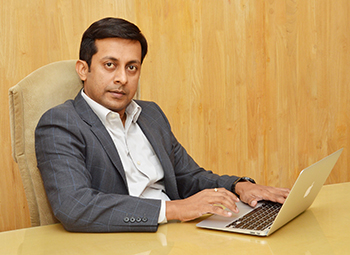 1. What does business continuity mean to you? How would you define it?
Business Continuity to us is planning proactively on how to mitigate risks from unprecedented situations, like the one we've found ourselves in today. To ensure that our essential operations can bounce back effectively to sustain costs while ensuring our employees are taken care of too. Our BCP also takes into account our business partners – our distributors and retailers; who are an integral part of our business. Currently, our teams are working on how to resume business operations efficiently, evaluating recovery options as no one can predict how the market is going to respond once the lockdown is lifted. We've already been observing restricted spends by consumers as well as fall in demand in the apparel industry, so our business strategies will have to account for these new circumstances.
2. Has the current situation forced you to take a harder look at biz continuity? Does it help you prepare better you for the future?
The uncertainty surrounding the pandemic has definitely made us think harder about the way forward. The future response of global and local markets, consumers, employees, communities, investors is all ambiguous at this stage. Right now, what we as business leaders can do is reassure our partners and stakeholders of our resolve to come back with a workable business model to sustain operations and revenues.
This pandemic has pushed us to relook at everything; from daily business operations to asset management to people and how we look at shaping the business from here on. It is impossible to predict the business impact of this unexpected event. We are reassessing multiple business strategies and working on different models of functioning.
3. Can you share some measures you have taken towards ensuring continuity in your business?
Early March, before we could enter into the lockdown phase, we had already begun working on what would be our next steps to minimize risk in case we are on shutdown. To ensure the safety and health of all our employees, we had already instated hygiene protocols and sanitization procedures across manufacturing units and the main head office. Unit heads, administrative teams and departmental heads were ensuring that they not only sanitize the workspace but also maintain hygiene. We are a close-knit unit across and we are glad to note that we have had no Covid-19 casualties yet.
Stocks on hand and operations at both manufacturing facilities in Thinglur and Umergaon were evaluated. And one of the key realizations was a majority of our staff come from other states and in case of a lockdown they would not be able to return. Currently, the ones who couldn't return home are all housed at our local facilities and their daily needs are being taken care of.
Another measure we are now focused on is #MakeInIndia. We are exploring ways to localize procurements of raw materials. The pandemic has brought to us an opportunity to make 100% MADE IN INDIA products and not depend on China for raw materials.
In times, such as these, strengthening our distribution channels become imperative. We have long sustaining relationships with vendors, retailers and distributors, several run relatively small operations. With such uncertainty, we are reassessing what measures can be undertaken to reassure our support towards them.
4. Technology obviously is inevitable in biz continuity plans. How do you leverage it for your business?
Our continuity plan focuses on technology quite actively. Technology is critical, right from sales, order management, inventory management to digital marketing.
While the inner garment market has been predominantly an offline sale, we are now actively looking at building e-commerce as a current channel of sale. Our marketing strategies are focusing on building consumer trust in the quality and hygiene of our products as well as the adoption of buying online.
We've also been working on enabling our distributors and retailers with managing and planning their requirements through mobile apps and software's to ensure smooth transactions and better process flow.
5. Sustainability and continuity are closely linked. Going forward do you think there is going to be a greater focus on sustainability in this industry? What are your own plans in this regard?
We are expecting to see a greater focus on sustainability in every industry. Covid-19 has made relooking at all functions in every industry mandatory. Evaluating current operations and ensuring a functioning future business has taken priority in the textile and apparel industry.
For our businesses, we are internally re-thinking our plans and strategies, assets, resources, sales and distributor channels and seeking areas of improvement. Our plans have to be more dynamic to adapt to changing market scenarios and consumer behaviour.
Going forward, every business will have to focus on reducing expenses, innovating with operations, and optimizing resources to generate revenues and sustain the cash flow cycle.
6. End of the day business is about people. How do you ensure that the concept of biz continuity seeps into the working culture and staff mindset?
The biggest pillars of our business are the people – our employees, our distribution chain – distributors, retailers, suppliers, vendors, our investors. Through the lockdown, our focus has been on building relationships with all our partners. The anxiety among everyone is palpable and we've been communicating regularly with them to share on how we will overcome this.
Our employees are habituated with working onsite; so WFH is a fairly new concept for them. Regular guidelines on managing time, discipline on working from home and communication on better health and stress management have been our key focus. We are also continuously encouraging our employees to upgrade their skills in this time period.
Across all our stakeholders, we've been sharing on what are the business challenges in an uncertain market and how we can and we will cope with these in the coming days.