Covid-19 Impact : Consumers will shift from purchasing lifestyle needs to daily needs : Ayushi Gudwani
By Mohit Manghani | March 27, 2020
Governments, businesses and communities are facing the brunt of coronavirus pandemic. As COVID-19 impacts more people every day, most sectors of the economy have been reduced to a standstill.

So what's at stake for the Retail Industry, how much of it will be hit? Ayushi Gudwani, Co-Founder, FableStreet shares her take on the future of retail, measures adopted amid coronavirus scare and much more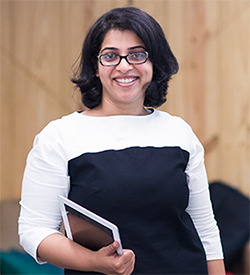 The Impact of the Shut-down
"We understand how overwhelming the COVID-19 situation is, what with the huge influx of information and updates pouring in. At FableStreet, we're committed to staying true to the things that matter - our clients, their safety & our services. We're committed to being both responsible & responsive, which is why we've taken strong measures to combat the same.
Measures Taken
1. We've placed alcohol-based sanitizers at our facility to ensure that every employee is able to sanitise their hands after entering the premises. Furthermore, the staff has been instructed to maintain distance while interacting with one another.
2. Our entire facility is being sanitised with alcohol-based cleaners.
3. We're constantly briefing our teams about COVID-19 - the symptoms & measures - as we aim to be prepared for everything.
4. Our entire staff, including those in design, production (tailors) & sales, has been briefed on personal hygiene such as washing hands often, maintaining a good respiratory system & to keep working surfaces sanitised.
5. All our shipments are being sent in sealed packaging - with multiple layers to avoid any contamination risk
Impact on the Apparel Industry
"There are two ways of looking at the COVID-19 situation and its impact on the apparel industry. The short or near-term impact is that as the country is going through a COVID-19 scare and potential health risk, we'll witness a fall in apparel sales on account of malls/stores being closed. More importantly, the mental bandwidth of consumers will also shift from purchasing lifestyle needs such as apparel to daily needs such as food and beverages. For the upcoming year, assuming things start picking up, the apparel industry will still see two levels of implications. One: The Spring Summer 20 sale cycle will take a hit as inventories have already been planned and will get piled up, given it's going to take some time for demand to recover. Secondly, the supply chain of the upcoming Autumn Winter 20 collections will take a hit because the planning has already begun, and the current disruption will have a significant impact on the supply side in the apparel industry".