RAI Conference brings together 20 top retail brands
By Satarupa Chakraborty | November 21, 2018
Hidesign, Wow!Momo, CaratLane, Nalli, Naturals and many more were among those attending the conference held in Chennai.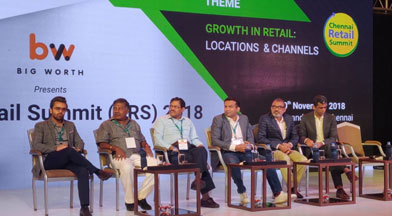 Retailers Association of India (RAI) brought over 20 leading retail brands and some of the emerging tech agencies under one roof at the conference, "GROWTH IN RETAIL : LOCATIONS & CHANNELS", held at ITC Grand Chola, Chennai,
A large part of the conference witnessed founders and CEOs/COOs of brands such as Max Retail, SPI Cinemas, CaratLane, Naturals and Hidesign speaking on their journeys that led to build successful brand equities. The panel discussion on "Growth in Retail : Loactions & Channels" included a gamut of brands who started as regional retailers and later became part of the national retail map. These include brands like Nalli, Neeru's, Thangamayil Jewellery Ltd, etc.
In another panel discussion, "Future of Retail : Technology, Destinations and Consumers", the use of technology to enhance customer experiences was explored in detail. The discussion was attended by a mix of regional and national brands like Go Colors, Specsmakers Opticians Pvt Ltd, Prisma Garments, Kovai Pazhamudir Nilayam, etc.
The conference ended with a conversation between RAI CEO Kumar Rajagopalan and TT Jagannathan, Chairman of the TTK Group, who engaged the attendees with his humour and encouraging words.
Similar News
Rural Marketing Association of India (RMAI) re-elects Sanjay Kaul as CEO with minor changes in its board members. RMAI also introduced its West Chapter.
Attended by the major industry stakeholders including digital printers, converters, material providers, brand marketers among others, the event held in Mumbai delved into the various aspects of Soft Signage, including its impact on consumer decisions, environment and business growth