Adidas to double up its Homecourt stores by 2020
Vjmedia Works | November 18, 2016
Sportswear major Adidas is planning to incorporate its"œHomecourt"retail design in most of the key stores across India adding 10-12 stores every year.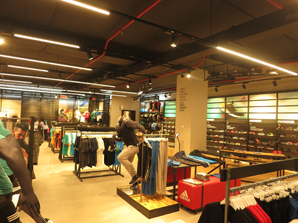 Adidas's latest store design concept in India, Homecourt, which is an adopted version of the brand's world-renowned concept, Stadium (present in world's iconic high street locations), will be present in almost all key stores across the Indian market by 2020. While most of the new stores will be coined under this design principle, a few existing stores will be upgraded. These stores will be located at all metro cities. There are further plans to incorporate "Experience Hubs" within these plush stores to offer experiential shopping experience to its customers.

Neelabh Maitreya, Senior Manager – Store Development, Adidas India, shared, "We are committed to the growth of the brand in the country by bringing to India some of the most innovative products in our global retail concepts namely Homecourt and Neighbourhood stores. We opened our first Homecourt and Neighborhood stores in Bangalore, and have been gradually ramping up across key locations in the country. Our aim is to enhance consumer experience tremendously by offering premium products in these store formats. While we continue to increase our number of Homecourts across the country, we will also strengthen the retail channels such as our franchise network, along with departmental, MBO and distribution in coming years." Adidas is also coming up with a 7000 sq ft store at Express mall, Chennai early next year.